NOUVEAU FORUM
Découvrez un tout nouvel espace shopping & restauration
Rendez-vous le 29 septembre, évènements exclusifs de 17h à 22h ! 
En savoir plus ici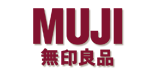 MUJI
Open today
From 10:00 AM to 8:30 PM

01 85 08 62 86
MUJI, originally founded in Japan in 1980, sells a wide variety of everyday products. MUJI products, the result of a highly efficient manufacturing process, are pared down but not minimalist. In other words, they are just empty vessels. Simplicity and lack of adornment lead to an ultimately universal product which appeals to the thoughts and feelings of everyone.

Opening Hours
Monday

· From 10:00 AM to 8:30 PM


Tuesday

· From 10:00 AM to 8:30 PM


Wednesday

· From 10:00 AM to 8:30 PM


Thursday

· From 10:00 AM to 8:30 PM


Friday

· From 10:00 AM to 8:30 PM


Saturday

· From 10:00 AM to 8:30 PM


Sunday

· From 11:00 AM to 7:00 PM