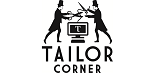 TAILOR CORNER
Closed today

09 72 37 72 30
TAILOR CORNER revisits the methods of traditional tailoring and adapts them to today's expectations and lifestyles by offering made-to-measure clothing.
Each suit is crafted with precision and stands for sartorial perfection: pick stitching on the collar, open buttonholes, semi-traditional interfacing, horn buttons… We can offer expert advice at our store to make sure you make the most of a simple and highly personalised made-to-measure service. Whether you want a suit modelled on the work of top fashion designers or to create your own unique model, simply give us your signature and have your suits delivered to the store or directly to your home.
The process follows 3 key stages: our 2.0 cutting table to choose your cut and personal preferences; our walls displaying fabrics which you can touch and select; and our fitting room to check the final measurements. Treat yourself to a totally personalised service in a world which combines technology and the conviviality of traditional tailor's shop.
Opening Hours
Monday

Closed

Tuesday

Closed

Wednesday

Closed

Thursday

Closed

Friday

Closed

Saturday

Closed

Sunday

Closed
Queue Management
WESTFIELD LES 4 TEMPS and some retailers are proposing a queue management system to allow customers to know the number of people shopping in a store