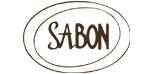 SABON
Open today
From 10:00 AM to 8:30 PM

01 47 75 28 99
Sabon offers cosmetics based on Dead Sea salts which are unique in the world for their countless properties, finest oils and natural ingredients. Our products offer the body strength and vitality.
Sabon believes that what is good for the body is good for the mind and offers a wide range of products for the body and face, bath products, home products, hair treatments and men's care.
When you enter Sabon, it is as if you step into a unique ceremony, you forget your worldly cares and let yourself be transported by our unique atmosphere, fragrances, textures... around our magic fountain. Step into our world and sample the pleasures and benefits of our products.
Smell our exquisite fragrances, touch our gossamer-light textures, experience well-being when you use our products around our fountain – all in a uniquely welcoming ambience.
Sabon brings your senses to life!
Opening Hours
Monday

· From 10:00 AM to 8:30 PM


Tuesday

· From 10:00 AM to 8:30 PM


Wednesday

· From 10:00 AM to 8:30 PM


Thursday

· From 10:00 AM to 8:30 PM


Friday

· From 10:00 AM to 8:30 PM


Saturday

· From 10:00 AM to 8:30 PM


Sunday

· From 10:00 AM to 8:00 PM

Categories :