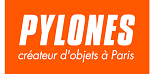 PYLONES
Open today
From 10:00 AM to 8:30 PM

09 84 02 72 13
Pylones objects are lovingly crafted, the fruit of the mischievous imagination of French designers – they have been cheerfully designed to put a spring in the step of daily life.
For more than 30 years, Pylones has been channelling emotions through the objects it creates – fun and happy, quirky and sparkling, they lean over backwards to put a smile on your face.
A clothes brush or a pair of scissors, a cheese grater or a bicycle bell, all its objects are cheerfully disconcerting, happily pushing the envelope.
Pylones also has a jewellery collection, Souffle de Pylones, with rings, pendants and earrings in glass which has been handblown in its workshops in France.
Opening Hours
Monday

· From 10:00 AM to 8:30 PM


Tuesday

· From 10:00 AM to 8:30 PM


Wednesday

· From 10:00 AM to 8:30 PM


Thursday

· From 10:00 AM to 8:30 PM


Friday

· From 10:00 AM to 8:30 PM


Saturday

· From 10:00 AM to 8:30 PM


Sunday

· From 10:00 AM to 8:00 PM

Categories :