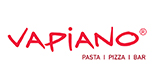 VAPIANO
Open today
From 9:30 AM to 11:00 PM

01 85 15 50 90
Vapiano serves Mediterranean dishes with an Italian twist prepared in front of your very eyes. Everything, from our pasta to our desserts, is home-made from fresh ingredients delivered daily.
Ours is a friendly and relaxed atmosphere – just right to meet up with family or friends. You can order pasta, pizzas and salads directly from our chefs and take them over to eat on huge oak tables next to a living green wall or around a centuries-old olive tree.
Why not try our bar & lounge space on the mezzanine or check out the products from our Bottega with its wide range of takeaway Italian specialities including cheeses and charcuterie from all over Italy.
Opening Hours
Monday

· From 9:30 AM to 11:00 PM


Tuesday

· From 9:30 AM to 11:00 PM


Wednesday

· From 9:30 AM to 11:00 PM


Thursday

· From 9:30 AM to 11:00 PM


Friday

· From 9:30 AM to 11:00 PM


Saturday

· From 8:30 AM to 11:00 PM


Sunday

· From 9:30 AM to 11:00 PM

Categories :