NOUS SOMMES HEUREUX DE VOUS RETROUVER !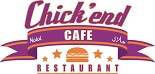 CHICK'END CAFE
Open today
From 10:00 AM to 8:00 PM

01 40 90 74 82
The Chick'end CAFE is a restaurant in your shopping centre that combines the benefits of fast food with quality products. The restaurant has designed an innovative and very varied menu to suit all tastes.
Practical Links :
Opening Hours
Monday

· From 10:00 AM to 8:30 PM


Tuesday

· From 10:00 AM to 8:30 PM


Wednesday

· From 10:00 AM to 8:30 PM


Thursday

· From 10:00 AM to 8:30 PM


Friday

· From 10:00 AM to 8:30 PM


Saturday

· From 10:00 AM to 8:30 PM


Sunday

· From 10:00 AM to 8:00 PM

Categories :
Practical Links :